Today I'm super excited to share this Camsoda confessional with you. Yes, it's all because of the girl in front of the camera. Her name is Evelin Stone and she's pretty amazing! Truth be told, I'd be a liar if we didn't say that we had a crush on her after interviewing her. She's a fan favorite porn actress that lots of people love and we're certainly not denying that here.
Never heard of her before? Well, maybe you've been using the wrong cam site! Don't worry, you're here now and reading this so that's a start. We'll get you back on track once you watch the video below. It's enough to make anyone want to grab some lube and take her for an exclusive chat.
Before you do anything like that, allow me to share some more information about the beautiful Evelin Stone. I'll start with aliases. While some girls have a ton of them, this one goes by Evelin Stone and Casey that's it. She was born on September 10, 1993, and is a ripe 24-year-old ready to take the porn and cam world by storm. This beautiful adult actress is from Fort Lauderdale, FL (just like Brooke Haze) and she's actively shooting porn on a regular basis. However, there's no doubt about it, her cam shows trump all her videos for sure.
As far as followers go, she's pretty new to Camsoda.com so she's only got 1,088 followers at the time of this confessional. Evelin Stone is currently a model working under 101 Modeling Inc. If you haven't checked out her physical attributes as of yet, she's got black hair, hazel eyes, a tight athletic build, a few cute tattoos, and perfect 32C boobs.
If you're on social media then you might catch her posting a few updates from time to time. My advice would be to check out her Twitter and Instagram accounts. The thing is though, you'll never find as good of content as you will chatting with her live on webcam. You're probably curious what porn sites she's featured on. If that's the case, a simple check online will reveal that she's shot with Mofos, Euro Curves, and Reality Kings just to name a few. You'll also find that she's got content on Manyvids.com, Onlyfans.com, and recorded content here on Camsoda. Enough about all that though, time to get to the real dirt!
Evelin Stone Shares Love For Sucking Cock and Playing Submissive Roles In Her Sex Fantasies
I'll just dive right into things here…
Evelin Stone explained to us that she's been in the adult industry for about one and a half years now. Things aren't necessarily booming for her (according to her) but she has shot with some of the top dogs within the industry. She's shot with Reality Kings and other studios that are well-known. People know who she is and her name is climbing the ladder as far as popular porn stars are concerned.
So yes, it's safe to say that she's making great progress and moving up the ladder for sure. Most importantly, she's having a ton of fun doing all of this. Evelin Stone is happy with the progress and where she is so we're happy too.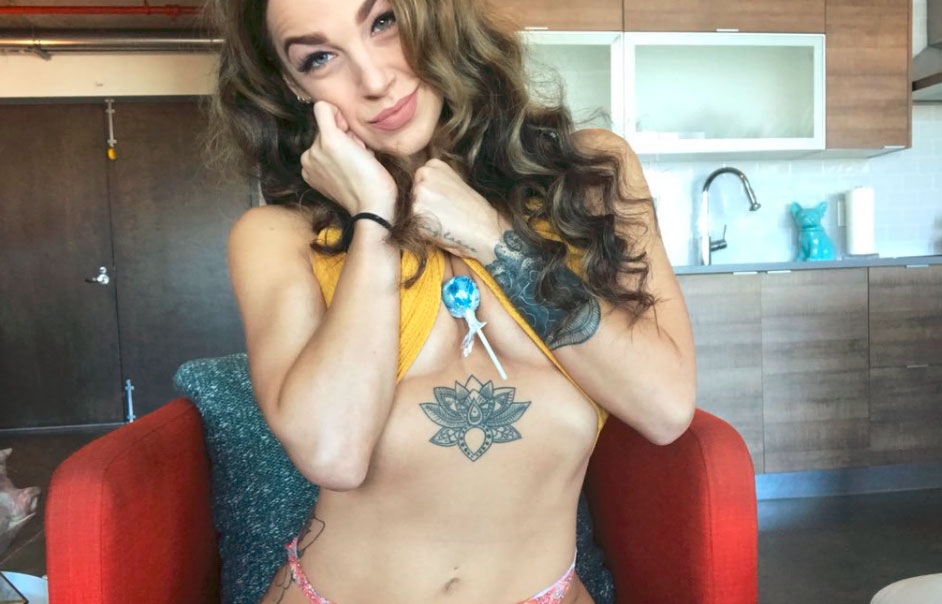 What Made Her Jump?
We, of course, had to ask Evelin what it was that ultimately made her want to start doing porn. The question doesn't get asked all the time but when we can ask, we do. It turns out that Evelin got her start in the industry as a cam girl. She started camming and looking for photographers which eventually led to some risque modeling. Then one thing led to another and the rest is history. So the exact progression line was: mainstream modeling > risque modeling > x-rated modeling > camming > then porn!
Soon as she developed connections in California, Las Vegas, and Miami, she ended up setting up her first official shoot. She made it a vacation, traveling around for a week, shooting porn and enjoying the time. According to Evelin, everyone was professional, nice, and interesting. Needless to say, I bet she's glad that she did it.
Similarities/Differences: Camera On Set and Webcam
We wanted to know if Evelin thought there were any similarities between shooting porn on camera and being in front of the camera live streaming on Camsoda. She didn't hesitate to confirm that there definitely is a difference between these two things. When you're camming, you're essentially in the setting of your choice, surrounded by familiar things, what you know and the freedom to talk about whatever you'd like is there. That's not the case when shooting porn on set.
The great thing about being on cam is that you get to do all the things that you want to do and how you want to do them. Soon as the creative juices get flowing then it's all up to you. That's at least what Evelin Stone had to say in a nutshell.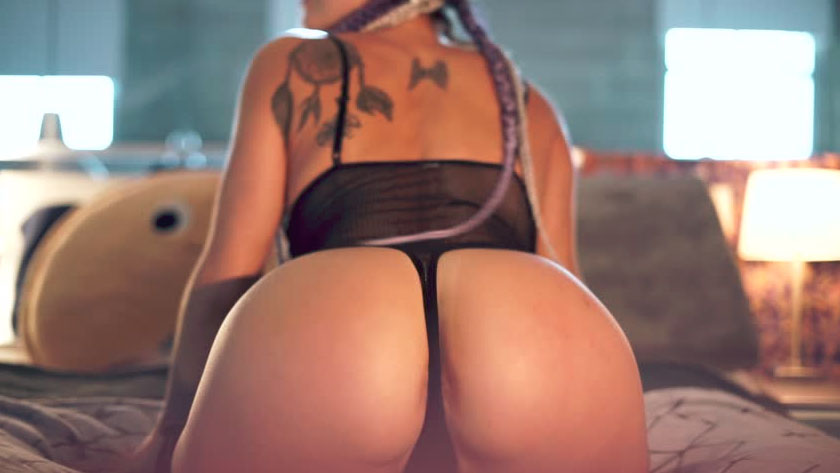 Biggest Thing That She Didn't Expect In The Industry
Every person has their own perception of what life is like working in various industries. We wanted to know if there was anything that caught her by surprise or if there was anything that she did not expect with regards to the industry. One thing that Evelin Stone told us was that the length of time that all this stuff takes was underestimated. She didn't say that verbatim but in a roundabout way, that's what she was trying to get across.
You don't understand how long it truly takes to film a scene until you're working hard and you're in the trenches on set. It's not just a gig like most people think. It's creative work and it's certainly not as easy as everyone thinks.
You get to enjoy the final product!
Still Camming
Just to clarify, Evelin Stone hasn't stopped camming. In fact, just the opposite, she's done quite a bit of camming these days and continues to do so more and more. She's been putting forth a lot of effort to perform planned shows with others and really connect with her cam fans. It's not as stressful and she really enjoys doing it.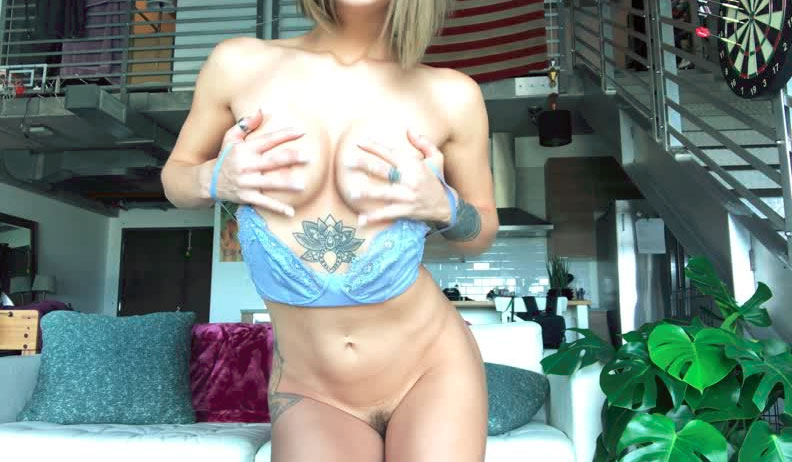 Performing Preferences
Evelin Stone loves shooting a hot boy/girl/girl scene. She actually has a lot more fun when there are three people versus two. You can't really disagree with her there right! Three is more than two and therefore, more fun. Adding a girl to the scene usually leads to more of a variety when it comes to shooting different things and it definitely helps keep interest levels at an all-time high.
Signature Move
Evelin Stone has quite the arch when getting slammed in a scene. Her head literally goes so far back that it's helped her gain recognition just for being so flexible I guess. It's not necessarily a signature move but it definitely happens and she can't quite figure out why. Perhaps it has something to do with getting dicked down hard as fuck from behind.
Oral / Vaginal / Anal
Evelin Stone loves giving blowjobs. It's one of those things that some might say she's fantastic at doing too. She can even get off while sucking a dick. That's how much doing it really gets her off. She loves dick and can get off while sucking dick. It happens quite a bit too.
Fantasies
Two fantasies that Evelin has are as follows. The first fantasy that she has is to be tied up and gang banged by a bunch of women and one guy. There needs to be one dick there, that's all. She loves the fact that these women can tell her what to do, slap her around and play the dominant role while she acts as the submissive one. She wants full on ravishing tied up! She wants real women with amazing bodies, curves, big hair, bald head, not the little school girl but everything else. Four women and one guy will do the trick.
The next fantasy that she has is the boy/boy/girl scene. Perhaps some DP worked in there as well. Something kinky and dominant where she plays the submissive one.
I'm sure that Evelin Stone has a lot to share with you and the rest of her fans. All you need to do is simply ask her on Camsoda and she's bound to answer all your questions. Even better, my advice would be to take her into a private chat session and ask away while she gets naked for you! Check out her profile here!