I absolutely love fitness girls. Seriously, there's nothing hotter than watching a fit girl get her sweat on. If you've never taken the time to partake in some of these group fitness classes, then you truly don't know what you're missing. You'll look better, feel better, and have better sex! Which is why I'm happy to share that Camsoda Fit now exists! Not sure what this is? Fear not, I'm going to share all the info I gathered on it.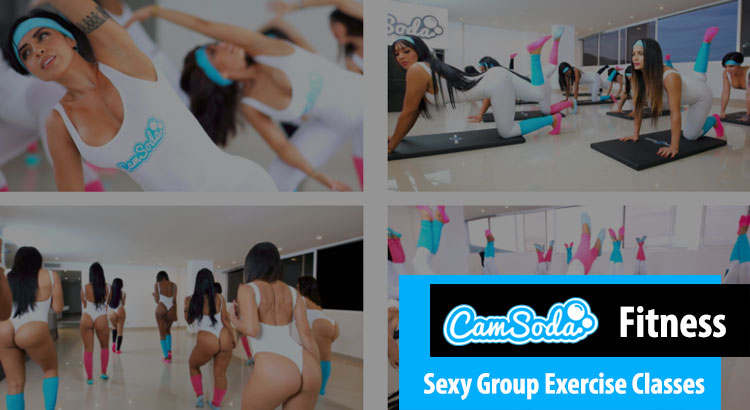 Camsoda Fit Will Get You Hard And In Shape
I've seen a lot – more than most to be honest. But this is one thing that I've not seen until now. Camsoda's just launched a new fitness program called Camsoda Fit. With Freeletics and all these other apps and streaming programs, it only makes sense for this to finally be here.
Camsoda Fit is just what you think it is – an online fitness program. It's a program that streams fitness classes live. Not just any classes but those taught by some of the sexiest Instagram fitness models and personal trainers out there. Oh, but did I mention that these are also cam models?
These fitness instructors are smoking hot, seriously!
There is some structure associated with this fitness program. Three times a week, the Camsoda Fit company will offer classes (1-hour each). The classes will consist of workouts such as high-intensity interval training (HIIT), yoga classes, and body blast workouts and more.
As for the women teaching the classes, they are beyond perfect. Girls (Camsoda models) like Reya Sunshine, Fitprincess, and Kelsi Monroe are trainers/instructors teaching everything.
The group classes are amazing. Here's a sneak peek for you to learn more…
If you're interested in taking one of the classes or watching while it takes place, then head on over to Camsoda.com and learn more about the exercise classes!
Why You Should Consider Trying Camsoda Fit
There are a few reasons why I personally would suggest giving Camsoda Fit a try. It's very difficult for lots of people to get motivated enough to exercise and be active, this is bound to help whip you into shape and help you get off even. Here are a few reasons I suggest trying this fitness class out…
Hot Fitness Girls
Seriously, the Camsoda fitness models are as hot as they come. Instagram doesn't have jack on these smoke shows. The amount of booty bouncing and exercising in thongs is unbelievable. Whether or not you like to workout or not, you're going to love watching these fitness models get fit, simple as that.
Sweat Success
I was able to sweat along with the class and thoroughly enjoyed it. Most people cannot even afford a gym membership today. That all ends today as Camsoda Fit is 100% free to use. I think I've lost a couple of pounds just by trying this out a couple of times.
Increased Stamina & Mental Health
Sex is great for your mental and physical health as is exercising. There's literally no reason why you'd want to avoid attending the Camsoda Fit classes as they're perhaps healthier than the actual cam chats even. You'll quickly find out why it makes you feel better about yourself.