There are so many cam sites on the Internet today. In fact, so many that I've literally lost count. One that I recently came across was SlutRoulette.com. Since I'm such a nosey SOB, I went ahead and dove into this site for a solid two hours. While I didn't have the best time in the world, I feel like sharing my slut roulette experience is warranted and necessary.
I don't even remember what I was searching for at the time I came across the site. If I remember correctly, I think I was on the lookout for other cam models and I clicked on a link that read, "slutroullete" and it led me to the site. So, what did I do? Well, none other than dive deep into the site to learn the ins and outs of it. What I can tell you is that it's one of these random chat roulette cam sites that connect you with a random person on the other end of the webcam.
These seem to be super popular today, but not necessarily my style.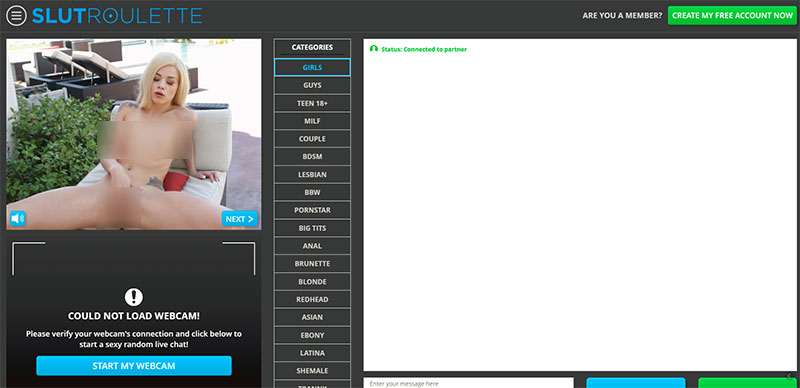 My Full Review After Using SlutRoulette.com
I totally get that people want variety and that they're looking for spontaniety and all that jazz, but this makes no sense to me. I'm not into getting sexually aroused by using some adult webcam chatroulette site. Instead, I prefer to know who I'm talking to and what I'm getting into.
The main reason I don't like this site is because it's not free, yet they claim that it truly is. They make claims that one can reach the highest erotic pleasure and enjoyment possible using slutroulette but that's nothing but a crock of shit. It is simply a webcam chatting service with a bunch of unverified models and users on the site.
That scares me.
The reason I'm so scared is that you have no idea who you're dealing with or speaking with when using this site. For all you know, you could be speaking with some unverified webcam girl that shouldn't even be on the site. That's not anything to mess with or joke about either.
Anyway, I'm not saying that's the case. All I'm saying is that this isn't what it seems to be.
How It Works
When you land on the slutroulette.com website, you'll need to immediately create an account. They claim that all you need is an email address and a nickname to get things started. They also claim that you do not need any credit card to get started. I cannot sit here and not comment on this.
One thing I know for sure is that this company most definitely wants your money and although they're not taking it up front, they will on the back end experience.
What do I mean by that?
Well, simply put, they eventually squeeze money out of you throwing random offers and upgrades at you.
Once you're logged into the site, you might notice that some models require payment to chat with. this is due to the fact that they work for a webcam studio. For example, there are some girls on Slut Roullette that work for Streamate.com and Myfreecams.com. These girls just want to attract users to join them on the other sites.
There are a couple positive things that I can say about this website. For starters, I can say that no matter what language you speak, this site works and it can help you easily communicate because models speak close to a dozen languages.
The Paid Options
Yes, they offer a paid option, like I said and they're not shy about it either. Honestly, I'd stay away from any paid site options on Slutroulette as I simply haven't seen anything good come from it before. There are plenty of other real professional adult cam models on sites that have superb customer support and service to mess with this site.
Conclusion: Slutroulette.com Isn't For You
The Slutroulette.com website is for the cheapo that likes to just hang out and chat with girls for free. It's not going to lead you anywhere and I can't think for a second that it would be the first choice for anyone that's serious about having a one-on-one exclusive chat session with a webcam girl online.