I've been testing the waters with a number of cam websites lately and I noticed one girl on both Chaturbate and Camsoda. Her screen name is very easy to remember as she goes by the name missmegansky. If you're a fan of hot blondes that like to have sex on cam and even invite their significant others to join at times, then she's the one for you. I've been spending almost 95% of my time with Miss Megan Sky via her Camsoda feed and it's been one hell of a time.
Before getting into everything that I love about this girl, I figured I'd share a few things with you. First things first, she is a Canadian hottie from Ontario and she's 25 years young. You best be ready for some big tit, round ass action if you plan on taking this girl private – for reals! Actually, screw it, I'll just get right into things and give you a full rundown of why I love her so much.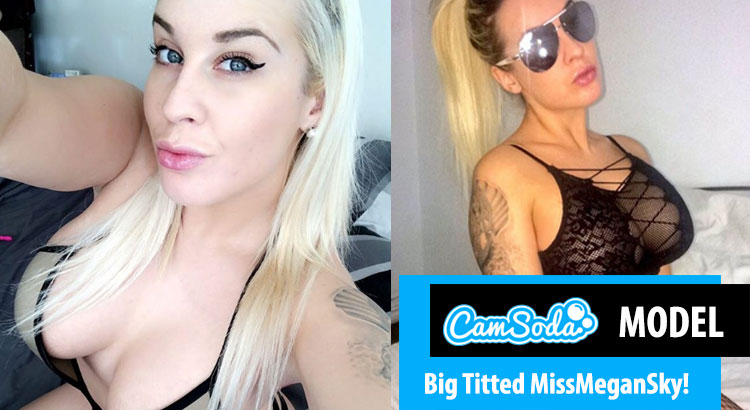 My Review After Camming w/ MissMeganSky
I'll try not to get a hard-on while writing this, it's going to be hard not to due to the fact that this girl is so nasty (in a good way). She's got everything I love and then some.
Big Double Ds On That!
Megan Sky can blow you away with just one look at her all natural 34 DD tits. Here's a little fun fact for you, she hates having to cover them up when she's in public. I should also mention that Megan Sky enjoys sharing them on cam with her fans. In fact, she can't help but show them off.
When You Take Her Private
The very first thing she likes to do is slowly slide off her panties and let her pussy make an appearance. That's when it's time to lift her shirt, she lets her girls out. With giant areolas and hard nipples, they never deserve to be kept out of the public view. It's just too bad that there are so many nudity laws up in Canada. She doesn't give a crap about that though!
Best BJ Ever
Her blonde hair and blue eyes are more than enough to make your cock beg for her attention. Looking into them while she's giving one of her incredible blowjobs should be a national pastime. I'm guessing that if you were lucky enough to have her suck you off, you'd explode in a matter of seconds.
Couples Cam
Although she never has a problem with playing alone, MissMeganSky has a perfectly good boyfriend that she can have fun with on camera, so why not use him? After having to look at her all day and night, he's always ready to give her a big, creamy load. In fact, not constantly having sex with her curvy body is pretty much torture for everyone.
Megan's Got Ink
She's got herself three tattoos and a navel piercing which look even better when you see them up close in an exclusive chat. The select few who get to see her naked are whom I consider the luckiest of them all. These tatttoos and piercings are a sexy little secret that she only shares with her cam show friends.
Everything about her body is a treat and she's well aware of the effects that it has on people. That's why she spends so much time on cam toying her pussy for all her fans.
Solo Mastubation On Webcam
When she does play with herself, she loves to use her pink vibrator. It's shaped just right to get her off faster than anything else in the world. She knows her body so well that she gets off during every cam show and gives it to her fans like they've never gotten it before.
Not only does she cum harder than most girls, she can do it while sliding that toy in and out of her ass. She's a girl that loves anal (just like Farrah Abraham) and she's not ashamed of it. If anyone can cum like her from nothing but an ass fucking, they're not sharing it with the world like she is.
My advice would be to take MissMeganSky private and get the full experience and rundown of everything that I'm sharing with you. I think you'll agree that she's amazing as they come. Click here to take her private!