Who likes big asses besides me? Anyone at all? You might be a little confused here and before I get down and dirty, I want to let you know that both Ms. Alottabootie and Melyssa Milan are the same girl. She operates under different aliases depending on what she's doing and when. What I can tell you is that regardless of what she's doing, she's amazing! Here's the story behind this model and everything you need to know about her.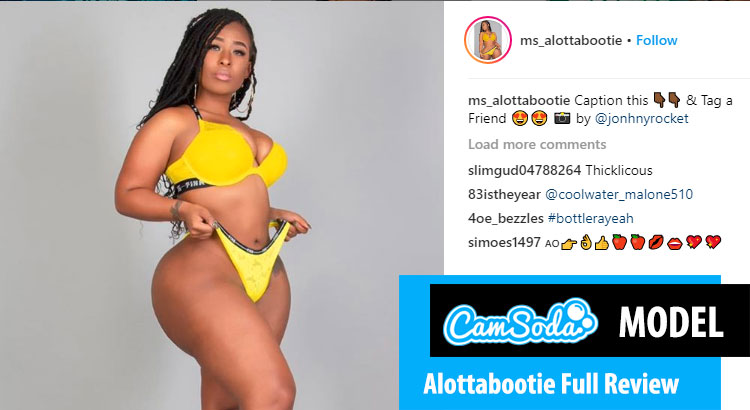 Ms.Alottabootie And Why You Need Her In Your Cam Life
There are big booty girls, and then there's Ms. Alotta Bootie! A premiere model in the big booty genre, Ms. Alotta Bootie has garnered a loyal fan base because of her infectious personality and incredible assets!
Hailing from Philly, this down to earth girl has a fifty-inch ass that's just made to smother your face. She loves to strip down and twerk for the camera, and there's no better twerk show than when sexy Alotta Bootie bends over and busts it open!
Trust me on this one. I've seen it more times than you can even imagine. You will not be disappointed, my friend!
No Dildos, No Problem!
Though she does not perform with sex toys, she has such an engaged fan base because she's so accessible and easy to talk to. If you want to build a relationship with her, all you have to do is be an avid fan and supporter and it will guarantee you get personal time and affection from this chocolate goddess. She has a body type that is coveted all over the world, and it's one hundred percent natural!
This girl doesn't need any surgery or ass shots to deliver her earth-shaking booty drops, and you know if it doesn't jiggle it's not the real thing. Ms. Alotta Bootie has got the jiggles for days.
Twerk City Baby
She provides content for true big ass lovers and twerking connoisseurs, and you can watch her in a variety of walk away, bouncing, and twerking vids. She loves to do full splits and spread her huge cheeks so you can get the best view of her goodies!
She will provide you with a dazzling ass performance that people usually have to go to the strip club and pay top dollar for, and you can enjoy it all on your own time and in your personal space.
Conclusion: Ms. Alottabootie Is Delightful, Trust Me!
It's rare to find a girl who is as stacked as she is but still remains grounded, and that combination is what makes her so intoxicating. Her charm and wit is only outmatched by the size of that ass! Her 34D tits are a perfect combination that gives her that hourglass figure that you can worship for days on end.
Once you see her content you will keep coming back for more! Don't waste your time with those little booty babes who can't twerk worth a damn. Go with a true full booty bad bitch and experience the real thing!
If you're still on the hunt for more big ass babes, then you need to check out these cam girls: