Have you ever wanted to not only see or feel what cam girls are doing but also smell them? Ever wonder what a girls panties smell like or what their body scent is like? Well, something called Ohroma allows you to easily connect with them. I know, it literally sounds impossible but I assure you that it most definitely is not impossible. Keep reading to understand how it works.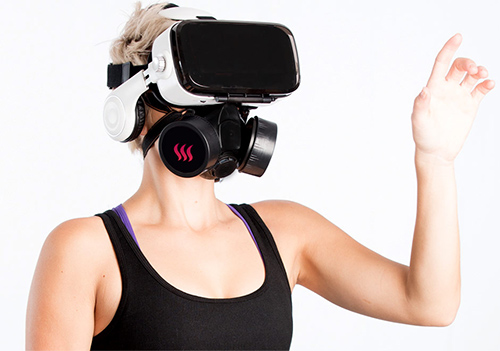 Ohroma Helps You Smell Cam Models Pussy and Panties
I'm a huge fan of smells. I think that the sense of smell is one of the more erotic senses in general and the fact that this company went so far beyond what we ever thought was imaginable is beyond me. I actually thought virtual BJs were impossible at one point too. Find out how the Ohroma actually works and what it does for Camsoda users.
Here's how it works…
The Ohroma users basically wear a sensory mask along with their VR headset. The sensory mask contains a couple of canisters with have cartridges within them. Camsoda users are able to select from a list of scents that they want disbursed via the cartridges.
Users are able to choose fragrances like, "pussy," "panties," "body odors," "environments" and many more. The scents heat up and give off the smells within the canisters. This literally allows users to identify smells with sight and hearing. It's perhaps one of the biggest advancements in the history of camming technology.
You'll need to have both the VR headset and the Ohroma mask, along with the app. I can almost guarantee that this will be the best webcam chat experience that you've ever had in your entire life. The development team over at Camsoda is one that simply can't get any better. They've made strides within the industry as far as innovation is concerned and I can't think of anything cooler than this. In fact, I know a few hot cam girls (Gianna Michaels being one of them) that I'd love to use this with. You don't have to settle for less today. Instead, you can simply use Camsoda and chat with naked girls, heck maybe ever jerkoff happily ever after like I do! You can buy the mask here.