As you know, I've been a huge fan of using cam sites. This has gone on for literally as long as I can remember. If it's your first time checking out my site, then I'm sure you might have a fetish for cams or you just might be interested in joining one or sites. Well, I took the time to give CamModel.com a try this weekend. In doing so, I was able to determine just about everything that you need to know about the site. Before I kick things off, I want you to know that just because I write a review about a cam site doesn't necessarily mean I endorse it. I'm simply sharing my own personal opinion on the site and everything that I experienced while using it.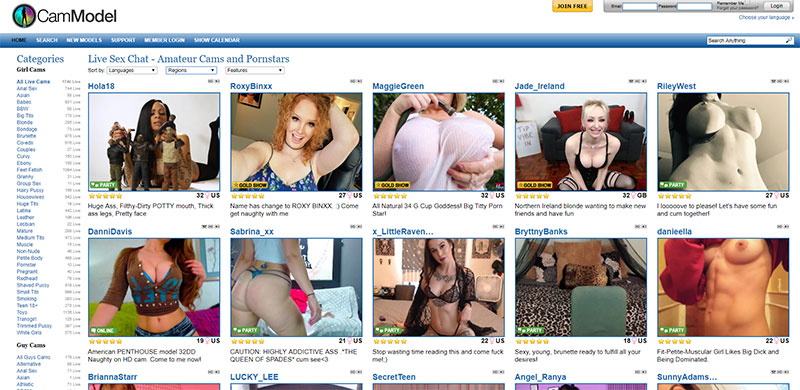 My Experience Using Cammodel.com (Complete Review)
The first thing you need to know is that when I landed on this site, I knew that I had seen something similar before. I thought that it was perhaps me mistyping Cammodels.com or something but that wasn't the case at all. In fact, what I discovered was that the Cammodel.com website was the spitting image of Streamate.com. As you may know, the site has a ton of self-branded sites that they run. This is a way for them to sell the services under a different brand. In this case, it's Cam Model and it actually turned out to be a fine experience.
I must say, I actually had a better time using this site than the traditional Streamate website. The colors were softer and the layout made it simple to see which category had the most models on the site. I think when I originally first checked it out, there were over 1,700 models on the site.
Some of the models that I had the pleasure of chatting with were absolute stars! By that, I mean they were smoking hot and could make dildos disappear like it was nobody's business. Girls like Maggie Green, Jade Ireland and Hola18 were live on the site and trust me, they put their pussies to work like never before.
Now, if I had to choose which category I enjoyed the most I'd have to say the Babes category. Reason being, I love a hot cam girl (like Jenna Shea) that's willing to do just about anything to get someone off. These girls were willing and able to do that and then some. My favorite girl was Jade Ireland by far.
As far as cost is concerned, the girls were not too expensive. Most of them were pretty affordable given that they only charge an average of $3.99 per minute. However, some of them tend to lag and waste time a lot in the first minute or so. That pisses me off beyond belief. However, not all the models try and do this but most waste time within the first 30 seconds. They want to know that you're not a one-minute man trying to just bust a nut in the quickest way. Trust me, the girls absolutely hate when you cum too quickly. I've done it before and it hasn't bode well with the girls. Don't get nervous about it though, they just want you to last longer because they make more money. There's no secret to that sauce!
Overall, I must say that my experience using the Cammodel.com site was decent but certainly not the best on earth. I've had way better experiences chatting with some of the Camsoda models. They just seem more down to earth and it's not as costly. However, that doesn't mean that you can't have fun on Cammodel.com. The choice is yours really, just prefer chatting with this model over all others on Cammodel.com.