We once thought that it was impossible for Donald Trump to win the Presidential Election. Low and behold, the son of a gun won it! Anyway, that's not what I'm interested in. I'm more interested in the fact that Camsoda offered Mr.Ken Bone $100,000 to go live on cam!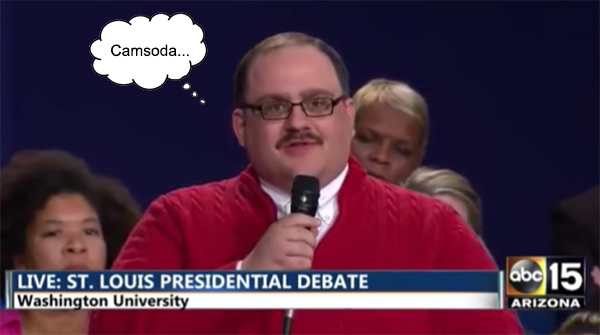 Ken Bone Gets Six-Figure Webcam Offer
Just when I think that my favorite cam site cannot get any better, they come out and do this! They want Ken Bone to get on Camsoda live for the entire world to see. I'm guessing that the folks over at Camsoda didn't get enough of more Bone! They want to give the American people what they want and that's the Bone Zone!
The parent company has offered Ken Bone $100,000 and 25 disposable cameras to do whatever he pleases with them. The official offer letter was sent to him immediately following his national TV debut. Ken Bone took the stage and the world loved him. The folks at Camsoda wanted to give back to the country and pay for some more of his time.
Here's the official letter that was sent out to Ken Bone.
October 10, 2016

Dear Mr. Kenneth Bone,

I hope this letter finds you well. During last night's debate you captivated the world with your question about energy, your red pullover and, quite honestly, just you being you. While Donald and Hillary continued to bicker, we were especially distraught that your question didn't receive the appropriate attention it deserved.

With that being said, I would like to formally extend an offer for you to participate in a live show broadcast from our platform, CamSoda.com, to our millions of fans. The show can cater to your specificities but we were thinking you could take us all to the Bone Zone and tell/show us what you're all about. In return for your participation in a live, hour long broadcast via our site, we will pay you $100,000 and provide you with 25 throw-away cameras to use at your disposal. Who knows, maybe you'll decide to announce that you're running for President.

And don't fret, we're pros with this stuff. CamSoda.com is a leading adult entertainment webcam platform and has a fully functioning live streaming cam house where models share their lives with the rest of the world. We recently launched the first ever live-stream virtual reality experience to overwhelming success.

We truly appreciate your consideration of our offer and look forward to the possibility of working together soon. In the interim, please feel free to check out CamSoda.com for more details.

Best regards,

Daron Parker

President
If that doesn't tell you how awesome this cam site is in addition to the kick ass girls that they have at the cam house, I don't know what does. Who knows, maybe they'll fly Ken Bone down to Florida so he can right in some T-rex costumes with the cam girls living at the house. Lord knows I'd pay anything to see that happen!