It should come as no surprise that I'm a huge fan of Cam Girls. What you likely didn't know was that I love girls with big fat asses, which is exactly why I was instantly attracted to AliceAfterDark (at first sight too).
Alice After Dark is the kind of short and thick little girl, with a fat ass, who will never shy away from doing something new and exciting. She knows exactly what it takes to get herself off, and has a vast array of sex toys to assist in the process. Alice makes sure she can get herself where she needs to go and when she needs to go there. I'm of course talking about her intense orgasms and more. This all takes place when she's live on from her bedroom cam. Showing off her self-loving skills to the men and women who love to watch her and play along for a little bit of fun.
I'm sharing everything that I need you to know about AliceAfterDark and her camming skills.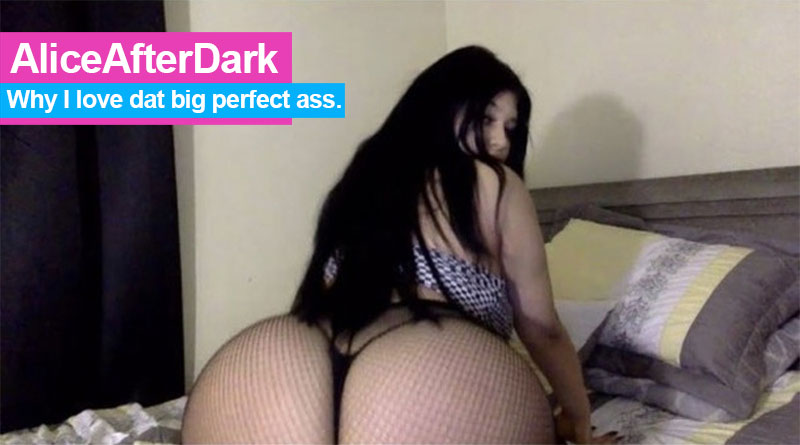 My Review Of AliceAfterDark And Her Cam Shows
Rather than give you a complete rundown of my personal experiences with Alice, I'd prefer to share the details about her that you need to know. I'll start with her beautiful hair…
She's got black hair that she loves to dye different colors to shake things up. Also, a pair of brown eyes that beg you to stare into them, as her body starts to tremble and shake once she reaches her orgasmic plateau. Just in case you prefer a big set of tits over a perfect ass, she's got two 36Cs to work with and never leaves them out of the good times. No matter what you like in a body, hers has got it. It's always naked and in front of you, whenever you need to take a look.
The More The Merrier
Of course, her love of getting herself off doesn't mean that she never invites her friends over. She's a loud and proud bisexual and can eat a pussy just as well as she can suck a cock. All it takes is a hot body, and her holes will gush with juices until the time comes to relieve herself of all of her pent up sexual energy. Her favorite way to get fucked is by two people at the same time, and she always makes sure to give both of them the time and care that they deserve.
If they're getting her off, then she needs to be getting them off. No one ever has a problem with her outlook on three ways. If she has two holes and a mouth, she's more than capable of making sure that everyone walks away emptied out and happy.
Toy Time
When it comes to her sex toys, she's got more than anyone could ever use in a lifetime. Some of them are battery operated, and some are just plain, old-fashioned dildos that fill her up in all the right places. She knows what she likes and she never keeps herself from getting it. If there's a way to get an orgasm out of something, then she's going to find it and she's going to love every single second of getting it.
Videos
Did I mention that she records some of her cam shows? Yup, you heard that right, AliceAfterDark likes to record her shows and even shares them with consumers and all her fans online. There's a special section of Camsoda where she's showcased this information.
Conclusion
Girls like AliceAfterDark just love to fuck and they love doing it in front of people. The eyes of the audience are like another person in the bedroom for her. Just like her three-way partners, she always makes sure to take care of them, just like they're taking care of her.
She's getting the kind of thrill from being watched that other people have only ever imagined. Therefore, the very least that she can do is return the favor and make sure that everyone gets what they want to see, to cum right along with her. They'll be sure to leave with the memories of one of the best sexual encounters of their lives.
Check out AliceAfterDark and many other models by clicking right here.
Interested in connecting with other cam models with fat asses? Then check this girl out.