What's the word, my friends! I'm here today to share something extra naughty with you. Yes, it's another webcam model review and this time I'm covering the one and only Alana Piper. Perhaps you've seen her live on cam or maybe you've seen her videos (because she records herself). Nevertheless, if you've seen her at all, then you know just how amazing she truly is. Some may say a one of a kind even! I've covered everything I know about this beautiful babe below. Keep reading for more insight.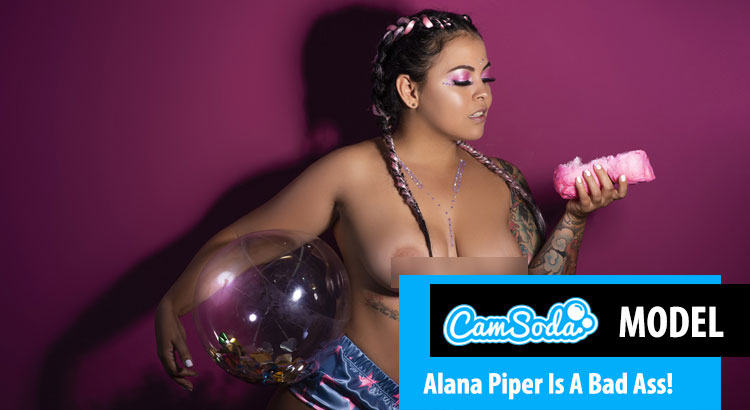 The Story Behind Alana Piper's Cam Life
I'll just come right out and say it, Alana is perhaps one of the most intense girls I've ever spent time with on cam. She's undeniably incredible when naked and streaming live. If you're into Colombian babes, then you'll LOVE her.
Dirrrrty Girl
A true dirty girl, Alana Piper is a hot Colombian beauty who loves nothing more than knowing that she can make you cum! This tattooed beauty has become insanely popular because of her constant need for sexual satisfaction and explosive squirt scenes! This girl is always available, puts on live shows where she cums often and provides an intimate fan experience that will make you feel like you really know her!
Curves + Thick Booty = Winning!
Alana is curvy in all the right places and has a beautiful face to match that thick body! Featuring a big booty that fits right in at any strip club, and Alana has an insatiable sexual appetite and a true eagerness to please.
She loves to engage in hour-long masturbation sessions where she slaps her clit and plays with her asshole until she's wet and ready! Alana's fans love her quirky personality and playful nastiness, and she always makes a strong connection in her rooms!
She knows that her fans expect her to squirt, getting pounded by fuck machines, and gag on ten-inch dildos, and she happily obliges! Her warm personality and filthy sex games make her a mesmerizing watch, and no matter what type of content she's providing, you always know you're getting a genuine performance.
Shake That Booty!
She loves to bend over and shake that fat ass, and she's well known for incredible twerking and ass clapping sessions. Many people don't realize that her soft-core content is just the tip of the iceberg, and Alana isn't really having fun unless she's playing with her fat pussy. She loves to push her boundaries and always talks about how much playing with her nipples turns her on!
Ball Gag Galore
If you like kink Alana is your girl, as she loves to stuff a ball gag in her mouth and get tied up while she's forced to cum over and over! Unlike other girls who never consistently stay on cam, Alana is a reliable performer who provides quality and quantity that will keep an avid fan engaged! She always says it's better coming together than when she's alone, and she gets wetter when she knows there are people watching!
Wrapping Things Up
Fans of Alana know that she loves to talk dirty in Spanish and that always drives people wild. She has a sultry demeanor, but she actually loves to be dominated and controlled. She encourages fan engagement and is accessible in a variety of other ways that allows fans of hers to have an intimate connection even without meeting in person.
Whether you control the vibrations of her dildo, or you purchase a pair of her used panties, Alana provides a spectrum of content so that you can experience her whichever way you want!  If you love girls who know how to be both slutty and sweet, and thick bitches with sexy tattoos and dazzling smiles, you will discover that Alana is right up your alley and will have you constantly coming back for more.
If you're planning on taking this delicious babe for a chat session, then you need to do so now! She gets booked up pretty quickly, so I suggest heading over to her profile page and messaging her immediately.
Looking for other Colombian babes to chat with? Not a problem, then hit up the infamous Susy Lynn here and she'll take you for a ride you're never going to forget!