Every so often I like to just post updates on random stuff related to camming. Well, today I came across a badass video which showcases to people taking on the Paqui Carolina Reaper Tortilla Chip Challenge. These fine folks are a part of the crew behind the scenes at Camsoda.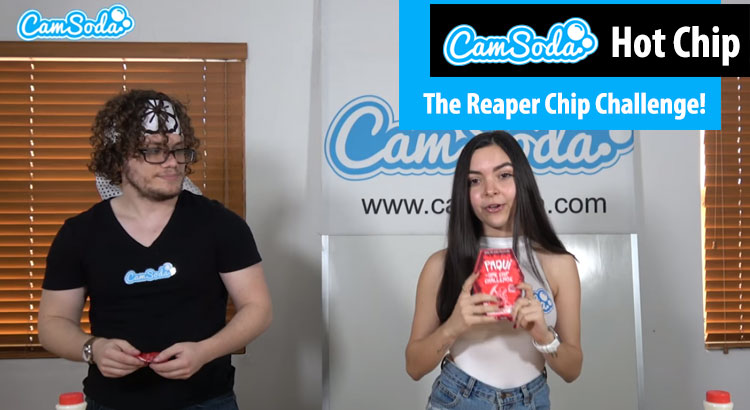 The Camsoda crew has done some pretty epic shit over the last few months. I mean, they've managed to convince Farrah Abraham to shoot a video toying her asshole. They've also managed to get blonde hottie Molly Cavalli in a shark cage to dive with the sharks. Not only that but she got bit for gosh sakes! I strongly recommend that you check that video out right here.
Paqui Carolina Reaper Hot Chip Challenge – The Rules
Anyway, the point is that these guys have done some really cool shit over the last year and this hot chip challenge is one of the many things.
Challenger #1: One of the guys behind the scenes at Camsoda.
Challenger #2: One of the hot girls working behind the cameras at Camsoda.
The challenge was simple. Whoever takes a sip of something first loses. Based on the video the "cooling off" options were milk, Ben and Jerry's ice cream, and yogurt.
Now, you'll have to watch the video to see what happens but I can tell you right now that these two are absolute champs in every sense of the way. There's no way in hell that I'd be able to stomach that chip.
Here's the kicker, they went H.A.M. and both ate more than one chip!
I thought I'd share this awesome video today with you all since it's brand new and I just found it. Definitely check it out because it's without a doubt, amazing. As is the female in the video. No, she's not a cam model, but that just goes to show you the caliber of girls that this cam site surrounds itself with. Top-notch and always beautiful looking – nothing less.
If you've done the Paqui Carolina Reaper Madness Challenge and you have something to share with me, please comment below. I'd love to hear your thoughts on eating these crazy hot chips!
Looking for more crazy videos, confessionals, and nude girls getting crazy on webcam, then head on over to the official chat site!