So, as you know I've been tinkering with the Camsoda site for quite some time and I have literally grown to love it. There's something new that the site has recently launched which has my cock rock solid. It's called the BlowCast! Don't worry, I'm going to explain exactly what this is and why I love using it. What I can say is that you've never had a camming experience like this.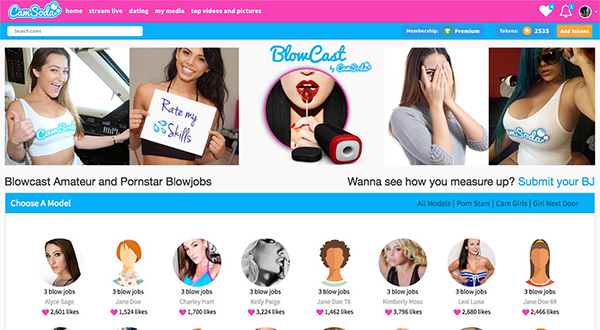 What Is BlowCast And How Does It Work?
Okay, so the BlowCast feature is just another awesome technology that the folks on this cam site have launched. It's actually a store that's part of the site. You basically get blowjobs from pornstars and amateur girls at your request. I've personally gotten one of these BJs from Dani Daniels and I almost came immediately. She sucks dick like a fucking champ!
Here's how it works…
All you need to do is enter the store section of the site. You will notice that they have a ton of models to choose from for this service. You can filter porn stars, cam girls, and amateur girls.
The next step is to simply choose a model you want a BJ from. I suggest taking a few minutes to check out each of the models. They have various options available for you to choose from. For example, one of the models is Kimberly Moss and she sells a few different things on the BlowCast page. She sucks your dick with no gag reflex, in a gentle loving manner, or she'll go to town on your dick like never before. You get to choose which type of dick sucking you want. How nice is it to have options like that?!?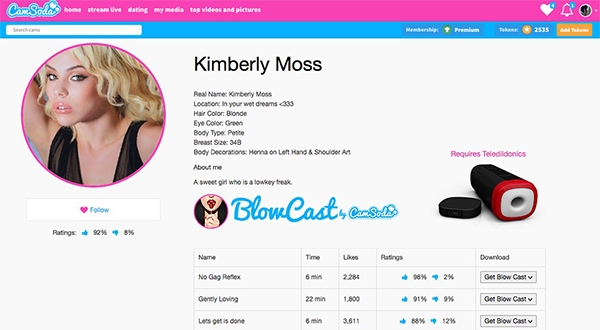 Don't forget to take into consideration the ratings by members. For example, I go for the no gag reflex because I love a girl that can swallow my dick.
From there, all you need to do is select the type of BJ you want and go for it. However, I should tell you that there is one requirement. You must have teledildonics in order to do this. If you don't know what that is, then I suggest you read this article. Give it a try and hold on tight! It's a wild ride for sure! I'm surprised that this wasn't released at this year's CES Show in Vegas! It's that fucking cool!
Now if you don't have the patience for any of that hi-tech stuff, then you can simply check out some of the girls that are live on cam now for a regular one-on-one chat. I typically go in exclusive chats daily and only do the blowcast every couple days. It's def worth trying if you haven't!