Yesterday I wrote a blog post about the Camsoda Fit group classes. I'm a huge fan of fitness and spending time working out with hot cam girls is exactly what I want to do. Check that update out right here and you'll understand what I'm talking about. One of the personal trainers mentioned was FitPrincess. She's fit, in shape, and a beast when it comes to working out!
Which is why I've decided to share my review of this Camsoda model.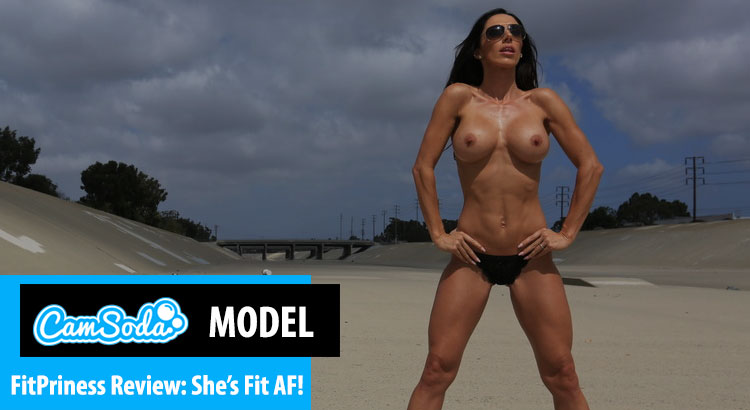 FitPrincess – My Camsoda Fitness Favorite!
FitPrincess has a perfect ass and a tight body attached to it. She's the kind of girl who will stop at nothing to make sure everyone around her is totally satisfied with her show. She never shies away from anything that feels good, and never fears something big and thick sliding deep inside her.
In fact, she has more than enough toys to go around. She even has a few machines that she likes to use when her cam comes on and her pussy starts to ache for a little release. If you like a girl who can offer it all, she's the one for you.
She stands at 5' 8" and it's all sexy. She's clearly a fan of fitness and keeps her body weight at 125 LBS to keep herself looking good. Don't let her frame fool you, though.
She still has a massive set of tits that anyone would be lucky just to see on the street. Those babies clock in at 32 DDD and she knows that they're what the people come to check out. They're perfect it every way and she always has them on display, no matter what's going on in her show.
No Calling Her BB
FitPrincess has one rule, though: Don't call her BB aka Baby. She works hard to keep her body perfect for you and she can't stand laziness. If you can't put in the effort to type out her full name, then you're not worth her time. She can offer you everything that you've ever wanted. All you have to do is act like a gentleman when you're around her.
That's not really a lot for her to ask; it should be the same in any room that you visit. She just makes it a prerequisite for entry to, and continued enjoyment of hers.
The Machine
When it's time for her to get down and dirty, she has a mechanical fuck machine that would intimidate any other kind of woman. She knows that she can handle it, though. With the poundings that she usually gives her pussy when she's alone, a machine just takes some of the hard work out of her orgasms.
It never fails to make her cum and she can control what kind of fucking it's giving her. Sometimes she likes it slow and deep. Other times she wants to feel like her entire body is being body slammed by a thick cock. Either way, she's going to cum for you.
No Doubt, She Loves Her Job
She loves every second of what she does and she proves it by going the extra mile to keep her fans happy. Not only does she give the best shows around, but she also loves to send out her worn panties to her true admirers.
Having a little piece of her in your hand while she's playing on camera can give you an experience that you've never had before. She's just the best in every single way possible, and she's free on her cam whenever she can stop working out and get on.
Conclusion: FitPrincess FTW!
I'm a huge fan of FitPrincess and I love her more than anything. If you're into the fit girls like me, then you need to hit up FitPrincess on Camsoda.com. She's the absolute bomb and someone you want to spend time with. Take her into private, tip her, and have some fun!